Accessibility Statement
This Accessibility Statement applies to: DealsFinders.blog
---
Improving the User Experience for Users of Assistive Technologies
---
Web Accessibility Guidelines
DealsFinders.blog has leveraged the Web Content Accessibility Guidelines (WCAG) 2.1 as a reference to ensure the web content made available from this site is more accessible for individuals with disabilities and user friendly for everyone.
These globally recognized best practices (as recommended by the World Wide Web Consortium) consist of three levels of accessibility measurement (A, AA, and AAA). To the greatest extent feasible, DealsFinders.blog has elected to conform to Level AA of these guidelines.
Related Links:Web Accessibility Initiative (WAI)
Design guidelines for electronic and information technology
---
Providing Users with a Free Customizable Assistive Utility
AudioEye Toolbar
In addition to the above-mentioned techniques and strategies – and since not all site visitors have access to assistive tools such as screen readers – we provide free Web Personalization Tools that allow site visitors to customize their user experience.
Experience the AudioEye Toolbar
To experience the AudioEye AudioEye Toolbar, activate the AudioEye Toolbar button in the bottom right-hand corner.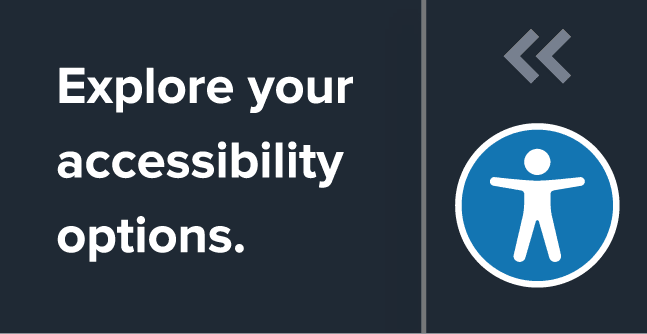 The AudioEye Toolbar provides Tools Tailored to Needs
Learn more about the ways in which the AudioEye Toolbar allows site visitors with diverse abilities to customize their user experience:
The following tools may be available in the AudioEye Toolbar:
Player
Listen to the content of a web page read aloud
Visual Toolkit
Customize the visual display of the website
Site Menu
Navigate simplified menus using your keyboard or mouse
Page Elements Menu
Access page elements and regions with simple keystrokes
Our Commitment
DealsFinders.blog is committed to providing a website that's accessible to all visitors. We are actively optimizing to ensure that accessibility tools such as screen readers maintain full compatibility with our site.
DealsFinders follows the guidance of Web Content Accessibility Guidelines 2.1 (WCAG 2.1). If you think of the opportunity for improvement, please contact us at [email protected]. We constantly working hard to improve the user experience of DealsFinders.blog for all types of users.
---
Third-Party Sites
Throughout this website, we make use of different third-party websites such as Instagram, YouTube, Twitter, and Facebook to spread news and information about DealsFinders.blog services. These sites, which are not controlled by DealsFinders.blog, may present challenges for individuals with disabilities that we are not able to control or remedy.
As made publicly available, here are the Accessibility Policies provided from these third-party sites:
Instagram Accessibility Announcement